Need to report an outage or safety concern?  Call 931-455-4515.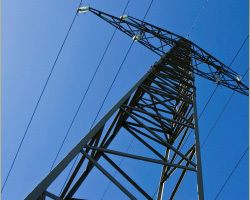 Electric Department
TUA serves 11,000 residential, commercial and industrial customers with low-cost, reliable power. Over 250 miles of distribution lines are maintained by the electrical department, which includes line workers and grounds workers, two engineering associates and an electric department manager. In addition to line maintenance, crews are also on call 24 hours a day for power outage emergencies.
TUA provides power through two main 161 kV substations, the most recent one being constructed by TUA staff and energized in March of 1997. Each main substation has the capacity of 75 MVA and each typically carries a winter peak load of 32 MW. The TUA distribution voltage is nominally 13 kV, three phase, 60 hertz.
TUA is a power distributor for the Tennessee Valley Authority, which has provided low-cost, reliable, public power to the customers of Tennessee and portions of surrounding states since 1933.
TVA provides regulatory oversight for your local power company's rates and service practice policies.
If you have an issue or complaint that you have not been able to resolve with your local power company, TVA's Complaint Resolution Process may be able to help.
There are three ways to begin the process:
TUA's Electric Department Received the 2019 RP3 Designation 
At Tullahoma Utilities Authority, we're committed to a greener, healthier world. Trees around homes will not only help reduce the amount of energy your home requires, but they also add to your property value, reduce your carbon footprint, improve the air quality, and more effectively catch storm-water runoff. It is our intention that the free trees we provide be a gift to you and your community.
Tullahoma Utilities Authority is proud to sponsor this program and provide you with 1 free tree. In less than ten minutes, you can reserve your free tree. Thanks for participating in this exciting program.
Available trees:
Frontier Hybrid Elm, Kousa Dogwood, Shumard Oak, Sun Valley Red Maple
https://energysavingtrees.arborday.org/?partnerCode=07672
...
Design Criteria & Specifications