MISSION STATEMENT
The Authority of Public Utilities of the City of Tullahoma is dedicated to enhancing the quality of life and the environment in Tullahoma and its surrounding area by providing quality utility service at the lowest practical cost to our customers.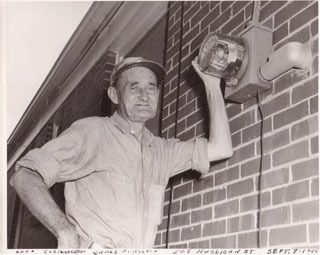 TUA History
D.A. (Dad) Daniel installs electric meter number 4000 on a Hardison Street home in 1956.
Electric power in the city of Tullahoma dates to the first year of the 20th century, when the Electric Light and Water Works Commission was formed on April 15, 1901, for the purpose of erecting and operating a generating plant for the city. A contract to sink a well for the city to use as a public water source followed closely in 1902.
By 1911, records reveal that fire hydrants and water lines were financed by the customer desiring the service. They paid 75 cents for each house, with an additional 50 cents if the house had an inside toilet. A drinking fountain for horses was also available in the downtown area.
In 1912, the Board of Electric Light, Water Works and Sewer Commissioners established rates of 10 cents for the first 50 kilowatt hours of electricity used, eight cents for any additional usage, and 25 cents for rental of electric meters. A contract to supply electric power to city residents was awarded to the private firm of Cummings and Brown and the first sewer bond issue raised $25,000 to build a wastewater treatment plant.
From these auspicious beginnings the Board of Public Utilities for the City of Tullahoma was born in 1947, when TVA assumed the distribution of electricity from the Tennessee Electric Power Company. Although TVA had been established in the mid 1930s, Tullahoma leaders did not enter a contract with the federal agency for over 12 years, fearing revenue generated by the electric department would be lost if the city had to retail electricity under the rules and regulations set forth by TVA.
But due to mounting pressure from TVA to supply city residents with lower electric rates and a promise to compensate the city annually for the loss of revenue, Mayor Olney Anderson entered into a contract with TVA, and formed a separate board for electricity on Sept. 13, 1948. The first Board of Public Utilities consisted of F.I. Couser, O.D. Wiseman and E.I. Hitt, chairman. Serving as manager was A.H. Sanders, and Elmer Rose was secretary/treasurer. Assets amounting to $305,637 were turned over to the board, but no cash actually changed hands.
Citing an inability to operate the water and sewer departments and meet bond obligations as well, Mayor Tut Parham turned over the operation of the water and sewer systems to the Board of Public Utilities in July 1, 1959.
Former comptroller Lee Beavers wrote the following account in 1975:
"In 1959 we took over a water system that was pumping water 24 hours per day and had a line loss of 45 percent. In 1960 we started a program of plugging leaks and by 1964 we had reduced line loss to 15-18 percent. Old pumping figures back in 1955 show 45,000,000 gallons being pumped. Today, 20 years later, we are pumping 55,000,000 gallons per month."
On Aug. 12, 1977, ground was broken for the current Tullahoma Utilities Authority building on South Jackson Street. Designed by Sverdrup & Parcel, the building and warehouse were projected to cost $1.3 million and were funded with the aid of a Federal grant secured by former U.S. Rep. Albert Gore Jr., who was on hand at the groundbreaking ceremony.
Throughout the years, TUA has serviced the city with all of its electric, water, and sewer needs. Then, in 2008, TUA ventured into a new realm—the world of advanced fiber optics.
Under the director of current TUA President Brian Skelton, LightTube was born and serves the people and businesses of Tullahoma by providing ultra high-speed Internet, quality television, and crystal clear phone services.
"Our board made the decision to build LightTube for Economic Development – to help our existing businesses grow and to help bring in new businesses to our community," said Brian Skelton.  "LightTube Ultra High-Speed Internet also allows many of our customers to work from home.  The bonus result of building this system is that all of our residential LightTube customers now have the highest quality High Definition television service available anywhere, along with crystal clear, low-cost telephone service."
Additionally, LightTube offers over 140 HD channels and the most local programming around. Not to mention, the fiber system boasts the most reliable and fastest internet speed available.
Now, in addition to offering low utility rates, TUA is proud to be a quality fiber-to-the-home provider of ultra-high speed Internet, quality television services, and crystal clear telephone services. Furthermore, unlike other service providers, LightTube offers 24/7 local technical support.
In 2016, TUA made the move to become a state Authority, a separate entity from the city, allowing multiple benefits for both the utility and the city. The  move allowed TUB-related debt to be cleared from the city's books and allowed the utility to have more control over purchasing/selling land, among other things. With the move, the utility's official name changed from Tullahoma Utilities Board to Tullahoma Utilities Authority (TUA).
For more information on TUA or LightTube, call 931-455-4515, or stop by the office located at 901 S. Jackson St. Monday-Friday between 7:30 a.m. and 4:30 p.m.